Remembering Professor Charles J. Ogletree, Jr. (1952-2023)
He was arguably one of this generation's most astute legal minds. But Charles J. Ogletree, Jr., was more than that. Like Thurgood Marshall, Charles Hamilton Houston, and Oliver W. Hill Sr., Ogletree used his legal prowess to significantly advance the cause of Black Americans.
Ogletree—who was affectionately known as "Tree"—died on Friday, after an eight-year battle with Alzheimer's disease. The prominent Harvard Law professor was 70.  
"Professor Ogletree was a once-in-a-century kind of law professor," said Amos Jones, a Washington, D.C.-based attorney who served as Ogletree's research assistant during his time as a student at Harvard Law School. "He managed to practice at the very highest levels on behalf of the most marginalized, while also teaching and serving as a theorist at the very highest levels in the world. Those shoes cannot be filled."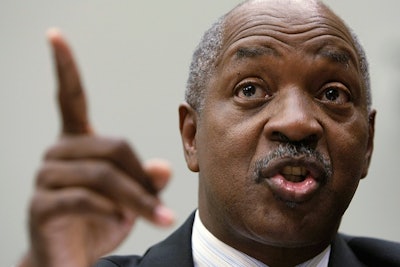 Ogletree, whose career spanned the gamut of the legal profession, served in numerous roles, including rising through the ranks to become the deputy director of the District of Columbia Public Defender Service. His clients included everyone from the late rapper Tupac Shakur to Anita Hill, who he represented in 1991 after she accused Clarence Thomas of sexual harassment during his Supreme Court confirmation hearings. In the early 2000s, Ogletree was actively seeking reparations on behalf of the survivors of the 1921 Tulsa, Oka., race riots.
It was reported that when Harvard's Dr. Henry Louis Gates, Jr., was wrongfully arrested at his own house in 2009, the first thing that he said was "Get Tree!" Gates knew that Ogletree was not only a skillful lawyer and friend, but that he would see the case through, nationalizing the arrest and capturing headlines that ultimately resulted in President Obama getting involved.
Over the weekend, Obama and former first lady Michelle—who were both students of Ogletree during their time at Harvard Law School—joined the litany of other voices from across the world in expressing deep sadness over the death of their friend and former professor. 
The Obamas pointed to the "Saturday School" that Ogletree initially created to provide Black students with the needed support system to help them get through their first year of law school.
"Eventually, Saturday School became so popular that students of every background began showing up to hear Charles explain things in a way that they could understand," the Obamas said in a joint statement. "It was an example of the kind of person Charles has always been: unfailingly helpful, and driven by a genuine concern for others."
Reverend Al Sharpton was among the many guests that Ogletree would invite to Saturday School across the years, and the two worked together with the late New York City Mayor Ed Koch to develop a program called Second Chance to help nonviolent drug offenders reintegrate into society. When Sharpton ran for president in 2004, Ogletree served as an adviser and later credited the civil rights leader with being Obama's link to the streets.
"Al Sharpton has become the lightning rod in moving Obama's agenda forward," Ogletree said in a 2010 interview "And he has access to both the streets and the suites, to make sure that the people who are voiceless, faceless and powerless finally have some say."
A native of Merced, Calif., Ogletree was the oldest of seven siblings. After graduating from high school, he earned a spot at Stanford University, where he would earn both an undergraduate and graduate degree in Political Science, all the while becoming president of the student body. It was at Stanford that Ogletree would meet and later marry his future bride, Pamela Barnes.
After Stanford, he attended Harvard Law School, graduating in 1978.
Hailed as a masterful moderator, Ogletree was appointed a lecturer at Harvard Law School in 1984, and then named a professor of law in 1993. Five years later, he became the Jesse Climenko Professor of Law, a post that he held until Alzheimer's forced him into retirement in 2020. Harvard established an endowed professorship, established in recognition of Ogletree's contributions. Guy-Uriel E. Charles, an expert in constitutional law, election law, and race who joined the Harvard Law faculty in July 2021, currently serves as the inaugural Charles J. Ogletree, Jr. Professor of Law.
"Charles was a tireless advocate for civil rights, equality, human dignity, and social justice. He changed the world in so many ways, and he will be sorely missed in a world that very much needs him," said John F. Manning, Morgan and Helen Chu Dean and Professor of Law at Harvard Law School.
Last fall, the Ogletree family donated papers from Ogletree's career to the Harvard Law School Library, which will make them available on a rolling basis over the next 3 years.
"Professor Ogletree always made sure that there was an intergenerational connection that linked the human rights and civil rights figures of the past and present with the future," said Jones, adding that Ogletree was always hiring as many qualified research assistants as he could.
That kind of mentorship, said Jones, is what he will remember most about the prolific law professor.
"Too often, people are afraid to be Black in high spaces," said Jones. "Professor Ogletree was unapologetically Black in the name of justice, and everybody knew it. When he provided refreshments at Harvard Law School, it would be from a local soul food restaurant. I'm from Kentucky. I liked that. So, from little things to big things, he was a coherent person and a coherent scholar. "
Staff Writer Jon Edelman contributed to this article.