Three Tools That Leadership Gift Officers Need to Be Successful in Today's Fundraising Environment 
Leadership giving is often considered the big "muck up in the middle" of advancement work. Stuck somewhere between annual giving and major gifts, this crucial step on the path to big giving is often under-served, under-resourced, and provided with horrible technology. RNL leaders and our client partners recognized this and decided to do something. So, we sat down over the past few months and created something game-changing: RNL Leadership Giving. Based on the $1B platform behind RNL Engage, this easy to adopt solution can give your leadership fundraiser connected tech that focuses on the best donors
Here are three core tools we built into this game changing platform, on the advice of actual gift officers and advancement leaders who helped us in the construction.
Integrated texting, email, video messaging and calling help gift officers find the right channel quickly
If there's one thing you have to get right in donor engagement, it's "the right channel, for the right donor at the right time." That's become a bit of a motto here at RNL. And that's one reason why I believe that we have to build technology where all the channels are connected in one place. The idea that any gift officer would have to swap from place to place to send a text, email, make a video greeting or initiate a call seems crazy in today's connected world.
Operating your channels in isolation slows you down, opens you up to errors and makes it hard to do the most important component of 21st century fundraising: actually connecting with a donor to build a relationship. So, a key component of RNL Leadership Giving (and RNL Engage, the platform it's built on) is making sure these channels all operate in the same place. That's right, if you want to make a call, you just choose that option, send a text, just click that (with full access to the texting history). As I look at the integration, I wish I had this when I started in engagement centers over 20 years ago.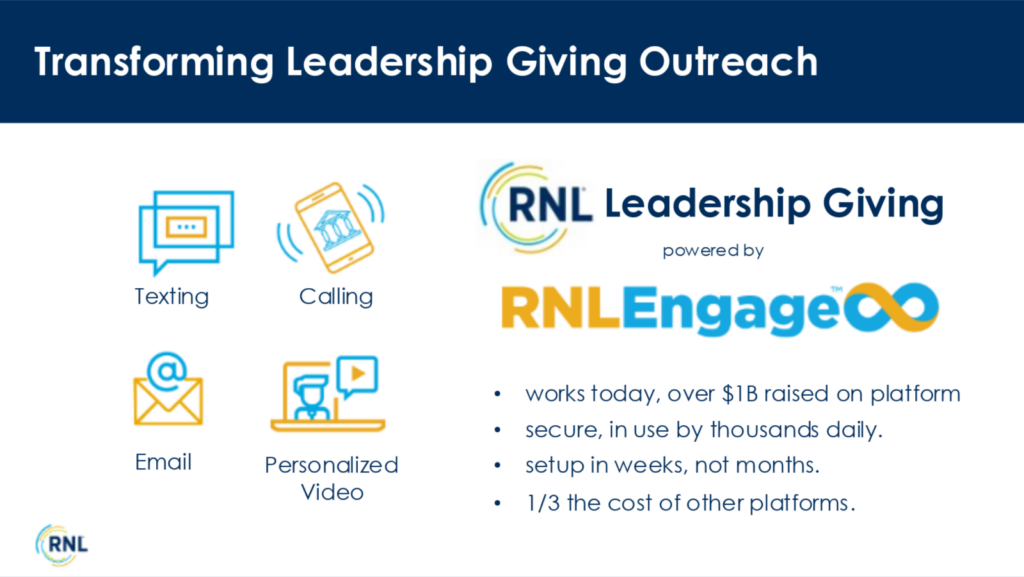 RNL Leadership Giving combines key tools that gift officers need with high ROI.
Help focusing on the right prospects is key to leadership gift officer success.
Most organizations have thousands of prospects they could consider for leadership engagement. To be successful in your outreach, you'll need focus. With RNL Leadership Giving, this occurs in two stages:
Finding your leadership giving pool: using tested predictive modelling used by hundreds of organizations, RNL analyzes your data and integrates proprietary external sources to suggest the best group of prospects for your officers to focus on. We choose a group size based on the number of officers, and your expected outreach volume.
Focus on a daily basis: RNL Engage automatically prioritizes the best prospects for each type of outreach when an officer sits down to begin engagement, ensuring that your team is the most productive, and donors are having the best possible experience.
There's a lot going on behind the scenes, but this one-two punch of smartly targeting the best prospects within your pool and always focusing on the best people in the moment to engage is a real game changer. And finally, since the integrated platform allows you to always have a view on core metrics, you can monitor results and make sure strategy is dialed for maximum success with your RNL partnership team.
Transform your leadership giving outreach
It's time to give leadership gift officers the tools that can truly fuel their success and maximize the donor experience. Request a consult with RNL experts  to find out more about how new technology:
Integrates texting, email, video messages and calling in one secure platform.
Helps you smartly target the prospective donors most likely to make a big gift.
Makes it easy for donors to give and for you to monitor results and coach officers.
Does it all with setup in weeks and at 1/3 the cost of other solutions available today.
When a leadership donor is ready to make a gift, it should be easy
Let's be honest. Some of our online giving pages at our organizations are . . . not great. We hear from leadership gift officers that the often negotiated a substantial gift, only to hear from a donor that they found it hard to make the gift. So, we packed into every program a customized giving portal, branded to your organization, that includes the option to send pre-populated gift amount fields with pledge commitments. And one other key, powerful tool: digital wallet. Today's donors, especially younger donors, want to be able to make gifts quickly and easily, and through their preferred method, which could be a card, Paypal, Venmo, Apple Pay.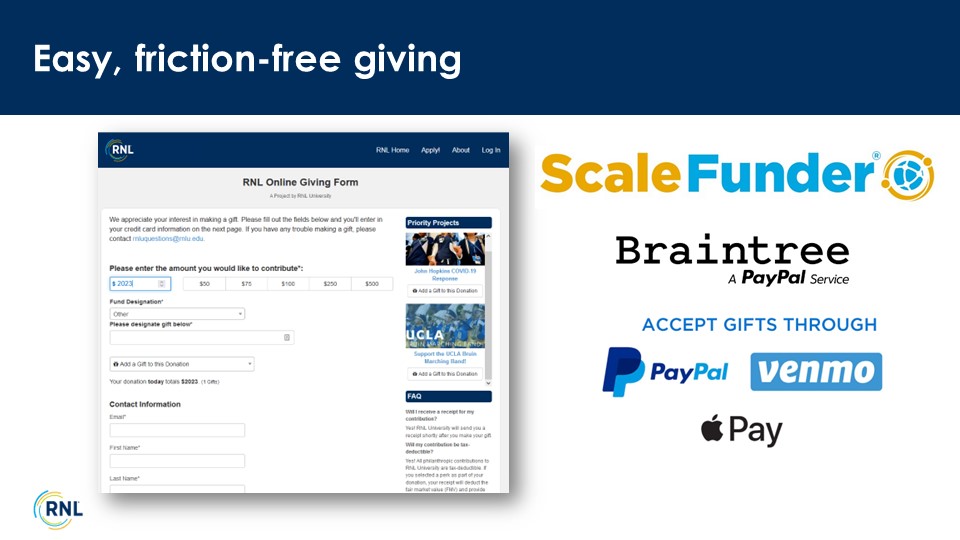 Image: Every RNL Leadership Giving program gets custom giving pages with a digital wallet option, so gifts can be made in less than a minute via PayPal, ApplePay and Venmo if a donor desires.
And sure, they might also want to contact you and direct a donor-advised fund gift, send money through a stock transfer or a family foundation too. What's crucial, is that as a gift officer, you have the tools in place to go the final mile with a leadership donor. So their giving is easy, and you can get on to celebrating, thanking them, and forging a path to their next investment.
Is anyone else thinking about that next big campaign?
It's time to give leadership giving and our gift officers the technology they need to succeed.
These are the three core tools that fundraiser told us were most important when we asked them for help in building RNL Leadership Giving, now available and powered by the $1B RNL Engage platform. We can have you up and running in weeks, not months, and at a cost about a third of what other companies are charging. We've been doing this for a long time, and we're focused on what actually works, and getting you in personal contact with donors.
That's been the theme at RNL for the two decades I've been part of the RNL family, and I'm excited to help lead this next step. Drop me a line, and we'll talk about how we can get your leadership giving program the tools you need to meet those revenue goals and give donors the personal experience they want as part of their investment in your cause.