Smallcases and Technical Traders Club Outperformance
It gives us great pleasure to mark the two-year milestone since the launch of our smallcases to public. We are delighted to present the performance data since inception, which showcases our substantial outperformance over the benchmarks.
Let's delve into the cornerstone of our offerings, our flagship products:
Introducing our flagship product, where do a mix of Technical Analysis, Fundamentals, Value, Insider Trading and everything together.
It's a mix of Short Term as well as Long Term.
Divided into two well-defined segments—Trading Recos and the Smallcap Folio.
Trading Recos: Tactical Ideas with a view of 1-3 months. We may ride trends longer also.
Smallcap Folio: Investment ideas with a view of 6-24 months. Low churn and ride longer term upsides.
Noteworthy features include:
Strategic Portfolio: With a focus on small and mid-cap segments, we maintain a select portfolio of 10-15 open positions at any given time.
Balanced Allocation: Investments are recommended with an equal weight or half weight approach, providing you with a balanced exposure to potential growth.
Clear Entry Points: Entry prices and range are communicated through email and WhatsApp, ensuring you have the necessary information for informed investment decisions.
Exit Management: Exit notifications too are provided via email and WhatsApp, alongside profit booking messages to keep you well-informed.
Regular Communication: We uphold consistent communication by sharing updates on open positions
Apart from this we also come out with Thematic Recommendations. For example our note on Banks in June 2022 or PSEs or Hotels etc. Also updates on Market Views on Inflection Points. For example our update in March 2023 calling risk reward to be good.
Performance Summary – Please note the returns here are not compounded!!
Since Inception to FY 23
Trading Reco – 179% (Feb 2019 to Mar 23)
Smallcap Folio –  127% (Sep 19 to Mar 23)
Performance Sheet TTC – Since Inception
FY24 (Till date)
Trading reco is up 33.05%
Smallcap folio is up 33.24%
Read more about TTC : https://nooreshtech.co.in/quickgains-premium/technical-traders-club
Now coming to our Smallcases
Our Flagship Smallcases
The Techno Funda Smallcase is of Top 10 Recommendations, founded upon a blend of Technical Analysis and Fundamental Analysis.
Noteworthy features include:
Emphasis on Fundamental Health: A strategic focus on companies with sound fundamentals, adeptly sidestepping those of lesser repute.
Strategic Themes and Sector Rotation: Guided by fundamental themes and sector rotation strategies.
Entry Points Anchored in Technical Breakouts: Initiating entries based on technical breakouts, relative strength, and thematic cues.
Low Portfolio Churn. Rebalance on need basis.
Equally Weighted Allocation: Each stock's weightage is set equal at inception and rebalanced with each addition or removal.
Holistic Market Engagement: Active participation across market cycles with fully invested approach. Will go to high cash whenever we see a huge Divergence on BSE Smallcap to Nifty.
Subscribe: https://nooreshtech.smallcase.com/smallcase/NOMMO_0001
Performance Summary
2 years: Up 116.07% vs 20.86% (Smallcap Index)
1 year: Up 57.19% vs 25.62%
6 months: Up 42.97% vs 30.71%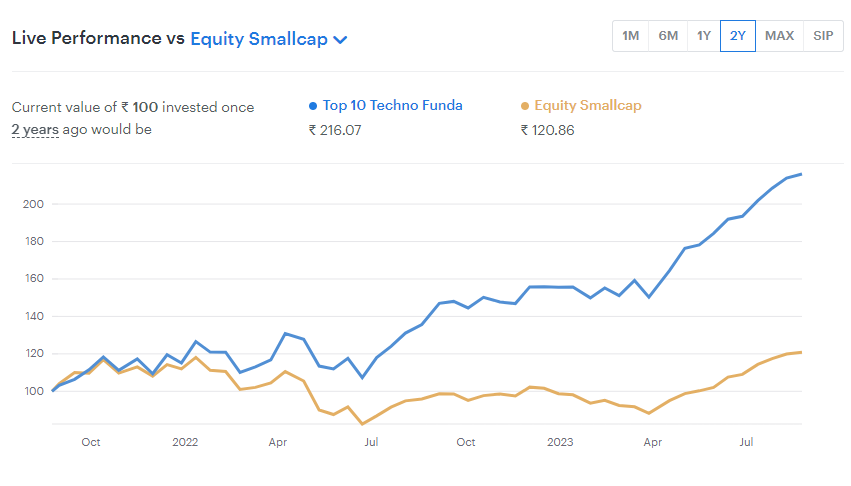 Our Insider Trading Smallcase is based on monitoring of open market buying and selling conducted by promoters. This approach hinges on the principle that promoter buying from the open market is indicative of a positive trajectory.
Notable facets include:
Significance of Promoter Commitment: Promoter involvement reflects a sustained commitment, supported by the rarity of their trading in and out of their own shares.
Evaluation of Long-Term Capital: The capital inflow through salary and dividends from promoters is proportionally small in relation to market capitalization, signifying the relevance of promoter buying.
Informed Stock Selection: Years of insightful data analysis underpin the creation of a basket of stocks, merging promoter buying insights with technical and fundamental analyses for optimal performance.
Subscribe : https://nooreshtech.smallcase.com/smallcase/NOMNM_0003
Performance Summary
2 years: Up 98.7% vs 20.86% (Smallcap Index)
1 year: Up 43.03% vs 25.62%
6 months: Up 54.91% vs 30.71%
The Top 10 Value smallcase is a testament to our conviction in the selection of fundamentally strong picks available at attractive valuations, and buying them on reversals or important support zones exhibiting compelling future growth potential
Subscribe : https://nooreshtech.smallcase.com/smallcase/NOMMO_0002
Performance Summary
2 years: Up 76.07% vs 20.86% (Smallcap Index)
1 year: Up 42.34% vs 25.62%
6 months: Up 50.93% vs 30.71%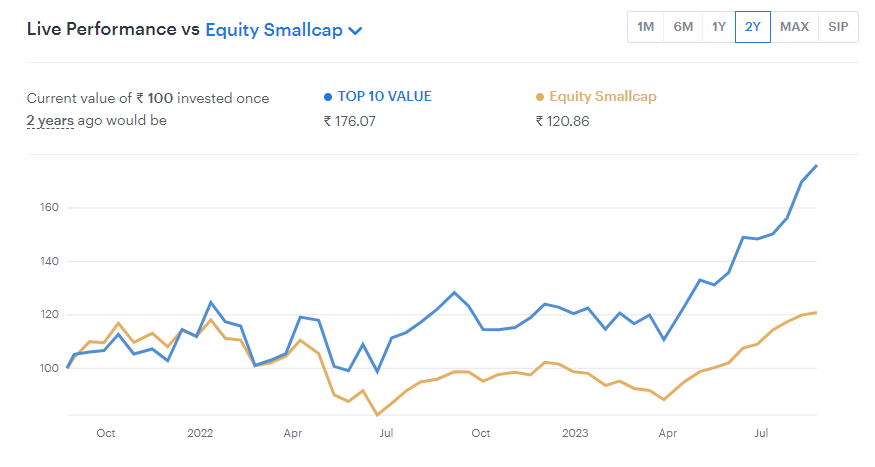 It is pertinent to note that subscription to our Thematic smallcases has been halted, as some have fulfilled their strategic objectives & our focus remains on further elevating the performance of our flagship offerings.
Lastly, there is the Breakout and Trail Momentum smallcase.
This distinctive momentum portfolio hinges on a purely technical ranking system
Subscribe : https://nooreshtech.smallcase.com/smallcase/NOMMO_0003
The portfolio has been able to generate market performance as momentum style is clearly not working in last 2 years !!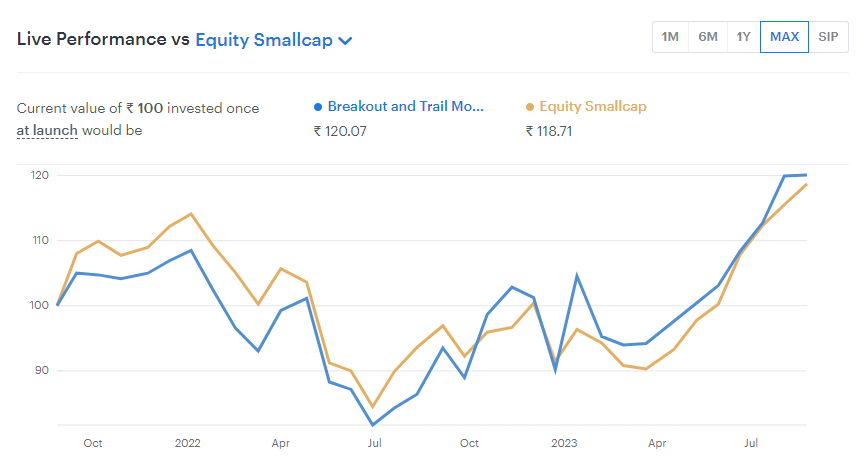 As we reflect on these remarkable two years, we eagerly anticipate the continued evolution of our offerings and the pursuit of excellence in the realm of smallcases.
For any queries, feel free to contact us on
NooreshTech – 7977801488 (Whatsapp)
Harsh Doshi – 9833845334
Email us on – nooreshtech@analyseindia.com