White Gunman Visited Edward Waters University Campus Before Carrying Out Deadly Shooting
A white supremacist who gunned down three Black people before killing himself at a Dollar General store in Jacksonville, Fla., on Saturday, may have been targeting the Edward Waters University (EWU), a historically Black university located in the city.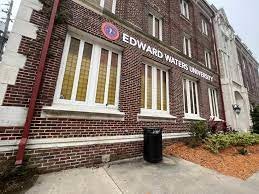 Police said that the gunman who has not yet been publicly identified and was described as being in his early 20s, went to the Edward Waters University campus prior to carrying out the deadly shooting spree. Law enforcement said that the man hated Black people and were looking to inflict harm. 
"I can't tell you what his mind-set was while he was there," said Sheriff T.K. Waters, about the man's visit to the private, Christian-affiliated HBCU. "But he did go there, and he did put his vest on and a mask on and then went directly to Dollar General."
The school ordered its students to shelter in place amid reports of the shooting on Saturday. 
A. Zachary Faison Jr., President and CEO of EWU posted a video to the school's instagram account. He confirmed that the shooter drove his vehicle onto the campus and was confronted by the school's security team, who forced him to leave after they realized that he was not a student or a member of the campus community. 
"The perpetrator, then did put on an armored vest and get back in his vehicle, and at that time, our campus security pursued him further and directed him off of the Edward Waters campus, followed him in his vehicle down King's road and away from the Edward Waters campus," said Faison. "Unfortunately, little did we know that he had some, of course, very, very heinous and [villainous] aims. and sometime thereafter, then went into a local place of business, and murdered, three individuals. "