Generative AI in Higher Education: A 360-Degree Approach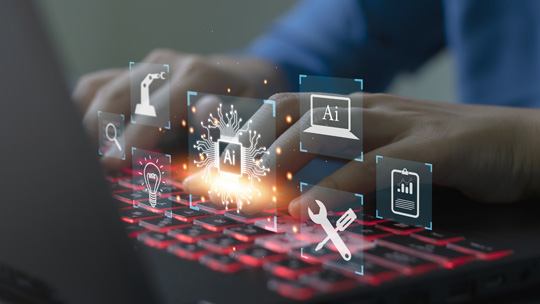 The excitement about Generative AI (Gen AI) since the release of ChatGPT, Bard, Claude, Midjourney, etc. seems to be settling now. Every business leader today is carefully considering, "How can Gen AI actually add value to my business?" AI undoubtedly will lead to innovation and augment our capabilities in every walk of life. With new developments every day, markets are moving quickly, leading our clients to wonder and ask where and how RNL is incorporating AI in our digital strategic approach.
Although there is a lot of uncertainty, volatility, and very blurred guardrails, our digital marketing strategists are identifying how to navigate this new landscape of endless possibilities and opportunities. I've spent considerable time over the last few months thinking through all the scenarios and how our campus partners can most effectively yet responsibly utilize AI to create and capture business value. My most important conclusion? Gen AI is enabling us by providing the opportunity to "make the future happen" rather than reacting to it.
As I collaborate with fellow digital strategy experts, colleagues, and RNL partners day in and out, I find interesting scenarios, challenges, questions, and opportunities in our conversations. The following reflects these conversations, and I seek to align them with my thoughts envisioning how Gen AI, machine learning, and deep learning can tackle these hurdles. There is inestimable value for organizations as Gen AI will add a whole new dimension to our strategic approach and take productivity further than we thought possible.
From my biggest lens of "digital strategy" across our campus partners' enrollment funnels, marketing strategies, research, and CRM implementations and optimizations, Gen AI can be incorporated to automate, augment, and accelerate current processes. It can generate new outcomes while being rooted in a commitment to Responsible AI—which is built for everyone, accountable and safe, respects privacy, and is driven by scientific excellence.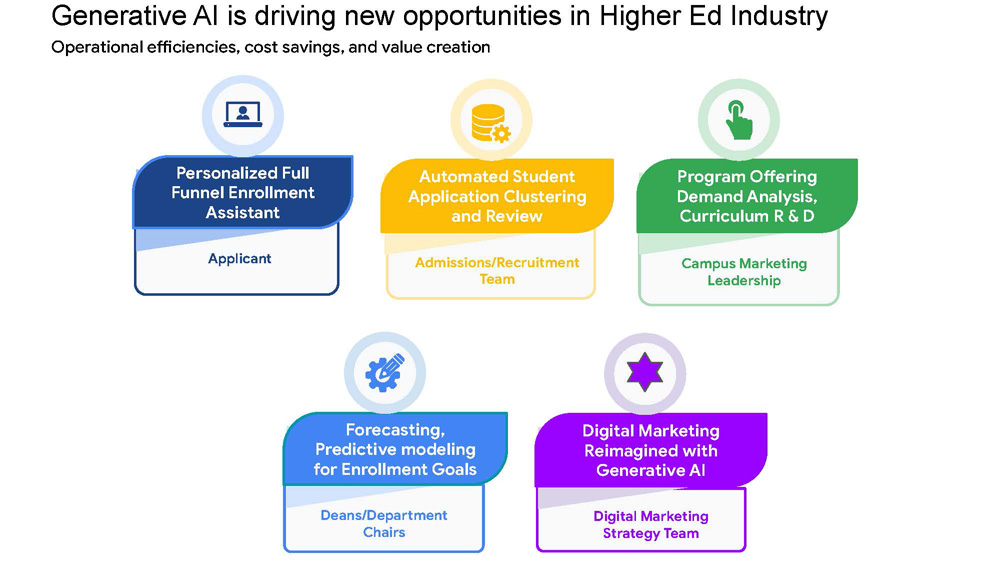 5 use cases for generative AI in higher education
Here are a few of the use cases that I have tried to capture for the entire value chain spanning across university campus partners, student experiences, and digital marketing strategy.
1. Personalized Full-Funnel Enrollment Assistant
In my experience, the biggest drop-offs in the full-funnel data that I review almost daily occur at mid-funnel. The data show that this is where our partners lose most of their applicants, which hurts the lead-to-enroll ratio and elevates Cost-Per-Acquisition (CPA). Imagine this is a qualified lead who started an application but for unknown reasons did not submit the application.
With Gen AI, we enter an entirely new era where machines can interact with humans to understand and process natural language. We can train large language models (LLMs) to develop a Gen AI "Conversational Assistant" that can become a new kind of humanized assistant that understands prospective students' natural written or spoken language, providing personalized assistance throughout the enrollment process.
These personalized assistants can answer students' questions 24/7, provide guidance on application requirements, guide students through financial aid options, provide comparative analysis on competitor universities, and send personalized reminders about important deadlines. All of these operations can help students stay on track during the application process and ultimately enroll.
During peak times, when the university's in-house staff falls short of bandwidth, these Conversational Assistants can handle a high volume of inquiries simultaneously, providing consistent responses and reducing the workload on admissions teams. As a result, we can enhance the efficiency and effectiveness of the entire enrollment processes, provide a more streamlined and personalized experience for applicants, and significantly increase our Lead-to-Enroll ratio while also reducing Cost-Per-Enrollment .
2. Automated Student Application Clustering and Review
Large language models are trained on enormous data sets and have unparalleled capability to process information. This can allow them to understand the relationship between student application data points, and a university admission rubric can be leveraged to classify student applications and cluster them by the categories of admitted, declined, and waitlisted. The model would also be able to analyze completed applications based on identifying key criteria such as academic achievement, majors, GPAs, and work experience to match against specific criteria laid out in the admissions rubric. The quick turnaround of such a review process can significantly improve the speed at which admission and recruiting teams operate. This enables those teams to meet student expectations, which indicate that more than half of graduate or online students expect an admissions decision within a week of submitting a completed application.
3. Program Offering Demand Analysis/Campus Curriculum R&D
It would take nothing less than an "AI genie" to provide campuses with a quick way to gauge market trends, analyze program demand, and align these data with program offerings. In my view, this is one of the best approaches to ensuring maximum enrollment and thereby revenue. Gen AI provides that genie! It can analyze current industry trends, job market demands, and emerging technologies to assist universities and faculty in designing both relevant messaging and positioning as well as an up-to-date curriculum. It can identify gaps in existing program offerings and recommend new courses or modifications to existing ones. Gen AI-powered analytics can help university leadership gather meaningful insights to identify programs in which students are most likely to enroll.
Talk with our digital marketing and enrollment experts
RNL works with colleges and universities across the country to ensure their digital marketing is optimized and filling their academic programs. Reach out today for a complimentary consultation to discuss:
Search engine optimization
Digital marketing
Lead generation
Digital engagement throughout the enrollment funnel
4. Forecasting/Predictive Modeling for Program Demand/Enrollment Scenario Planning
This is an area where Gen AI is going to be complementary to predictive AI. In addition to predictions based on large historical datasets, it will utilize neural networks to process and learn external data points that influence program offerings and student enrollment, including market research, economic conditions, admission requirements, job market dynamics, marketing efforts, and societal factors. It uses these "inputs" to generate inferences for "output" reports that can be applied institution-wide in service to enrollment growth.
These models can be fine-tuned over time to improve accuracy. Gen AI can process text data from student's admission essays, surveys, and online forums to gain insights into students' motivations, sentiments, and decision-making processes when selecting a program and/or a university. This information can be used to tailor marketing and recruitment strategies, helping universities prepare for a range of possibilities to make informed decisions on programs offered, resource allocation, budgeting, and staffing—all aligned with student expectations.
5. Digital Marketing Reimagined
Gen AI and LLMs can bring about a significant shift from passive information consumption to active engagement with the data, enabling us to not only find relevant data quickly but also immerse ourselves in the subject we're exploring. Since LLMs can be trained to solve any common language problem, the use cases are massive—ranging from text classification, to text generation, to question and answering, and even document summarization.
Given the trust people put in search engines, an LLM's capability to understand natural human language and its context to then generate human-like answers will take reliance on search to a whole new level. Prompt engineering is going to be another advanced approach to fetch responses to search queries that are more personalized. With this powerful new prompt engineering technology, we can unlock an ability within search to answer entirely new types of questions and transform the way information is organized on search engine results pages (SERPs).
Based on the features rolling out gradually in alpha and beta phases within platforms, Gen AI enables the reimagining of digital campaigns and can bring new breakthroughs in multiple facets—from natural-language conversational experience jumpstarting campaign creation to Gen AI-powered Performance Max to automated custom marketing assets, to new Gen AI capabilities with a Search Generative Experience (SGE).
Imagine how powerful the addition of Gen AI into the search experience will be with SGE when trying to find the best "MS Computer Science program." Instead of only conventional website links and URLs in search results, the prospective student could find a comprehensive display of comparable universities, alumni testimonials, program tuition details, syllabus information, faculty profiles, available financial aid options, and even personalized graduation pictures—all neatly organized in one place.
Furthermore, consider the prospective student's ability to ask follow-up questions, with the new conversational mode. The continuous introduction of new features from Google and Bing powered by Gen AI will push the limits even further for digital marketing strategy evolution. Rethinking how campaigns are developed, automated, delivered, measured, and optimized will become even more essential than they are now.
Generative AI is poised to deliver a profound transformation for higher education marketing and student recruitment
In conclusion, based on my interactions, experiences, and the industry challenges, Gen AI stands poised to catalyze a profound transformation in both the marketing and delivery of higher education—as with all other industries. It offers the promise of expanding campus operations, enhancing resource allocation, facilitating more informed program choices, elevating the student journey and enrollment experience, and driving cost efficiencies.
In the grand scheme of things, Gen AI for sure stands as one of the transformative forces of the future. It opens up all sorts of exciting possibilities in our ever-evolving digital world. While Gen AI undoubtedly enhances our capabilities, let's not forget the irreplaceable role of humans. Our interpretation, strategic thought processes, discernment, and inherent reliability will continue to be the cornerstone of effectiveness in this innovative new world. As we embrace AI's potential, let us always remember that it's the fusion of human ingenuity and AI innovation that will truly shape the future of education.
If you could relate to even a single use case here that can address challenges, that you are facing—please contact me with feedback, questions, or just your thoughts about these use cases (you can see my contact information here). I'd highly appreciate that!