HACU Kicks Off Annual Conference in Chicago
CHICAGO—
Etelin Tapi came to this year's Hispanic Association of Colleges and Universities (HACU) intently focused on meeting other student leaders who care as much as she does about the need for immigration reform.
Tapi, who was born in Mexico and brought to the United States when she was just 1, is now an undocumented student at Colorado College. Her academic journey has not been easy.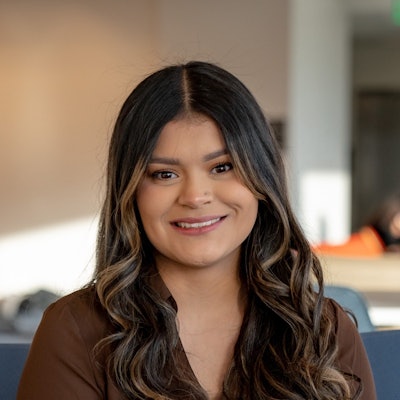 "Getting into a higher education institution in and of itself was already a challenge," said Tapi who came to HACU's three-day convening looking for some guidance. She is concerned about the ongoing assault to immigration rights, most notably to DACA.  
"As hard as we try to be resilient, finding a job after I graduate from college, is definitely still a concern in the back of my mind, considering this is something that impacts our livelihood," said Tapi, who is developing her entrepreneurship skills. "But one way or another—fear or no fear—I will get a job."
It's that kind of persistence and determination that HACU leaders say define the many students who are working every day to earn a college education, often at Hispanic Serving Institution (HSIs).
And yet, so many challenges and barriers persist, including the overall number of Hispanic students earning a bachelor's degree. That number has consistently hovered at about 24 percent, ten percentage points behind African Americans, nearly 20 percentage points behind whites and 40 points behind Asians.
"We are nowhere near where we need to be," said Dr. Antonio R. Flores, who has led HACU for the past 27 years. "Latinos are the least to get bachelor's degrees. We have to grammatically change the question of investment."
Flores used his annual State of HACU address at the opening of the conference, to call for President Biden to establish by executive order a President's Board of Advisors for Hispanic Serving Institutions. Such a board, Flores argued, could provide counsel to the White House and the Secretary of Education on pressing issues facing HSIs.
Currently, there is a HSI Caucus in the U.S House of Representatives headed by Congressman Joaquin Castro of Texas, and in 2021, U.S. Senators Alex Padilla (D-Calif.) and Bob Menendez (D-N.J.), both members of the Congressional Hispanic Caucus, announced the launch of the first-ever Senate Hispanic-Serving Institutions (HSI) Caucus for the 117th Congress.
Since then, the number of HSIs continue to expand. For instance, in Illinois, there are currently 18 HSIs and that growth continues. Flores noted that this trend has continued nationwide.
"That growth is not going to slow down," he said. "This continuing growth is not going to decelerate but pick up momentum."
In the upcoming year, HACU—which represents more than 500 colleges and universities—has made equitable funding for all HSIs a top priority. Flores said that the organization will push for key legislation especially the HERE Act and the DREAM Act. Flores said that there is a need to strengthen Titles V and III of the Higher Education Act and expand the role of HSIs in the Farm Bill. Seeking capital finance for infrastructure upgrading and capacity building remains a top priority for the organization as well.
Harnessing the power of Hispanics within the American workforce was the central theme of this year's conference. More than 50 workshops were held to address the topic, including one that focused on preparing first-generation Latinx students for jobs after college.
"Latinos are very much contributing to the betterment of this country by being part of all of this wealth creation," said Flores, who noted that Latinos remain underrepresented in STEM, energy, computer and information technology fields. In addition, he said that there is a need to grow the number of Latino physicians and surgeons.
HSIs, Flores added, will be the institutions to help fill the gap.
"In reality we have to think differently about elite institutions," he said.  "HSIs are carrying the weight and helping to meet the needs of Hispanic students. They are the ones producing incredible results for underrepresented populations and of course, Latinos."